Speak Your Truth in This Time of Turbulence
Congratulations!
I know you're ready to Speak Your Truth, and

Go Live on FB !
This is for you if:
You want to speak your truth, tell your story, and share what matters to you with confidence.
You have to speak in public, sell, do interviews, or network, but you avoid it.
You want to stop waiting for the 'perfect time' to go live on social media, and do it NOW!
You want

personalized attention from a success coach and a stage professional with 20+ years of experience.
You want to stop holding back and being stuck.
What will be the impact on your business or your career if you continue to hide, and avoid videos?
How might your business change if you had the confidence to go live on social media?
How much more reach, influence, and yes, sales, could video and live FB posts help you achieve by the end of this year?
By the end of our time together, you will:
Go live with ease and even look forward to it;
Increase your reach and influence on social media;
Use your voice with maximum impact and efficiency;
Look confident, in control, and energized online and on video;
Stop wavering, hesitating, and procrastinating;

Impress your clients (and your friends

☺️

) with your powerful Facebook Live sessions!
We make it easy for you to release your inner Diva and Story Teller.

Together, we will:
Release your biggest fears of speaking in public and online;

Transform your online "stage" presence;

Take away the dread of "having to say something" or "be present" on social media;

E

mpower you to speak your truth with confidence;
... while at the same time bringing ease and joy into the whole process.
I share with you all the insider performer secrets to feel and sound natural and convincing online, on camera, and on stage. It will allow you to share MORE stories and MORE content, to be MORE connected with your audience with ease.

Speak Your Truth in this Time of Turbulence Course details
I can't wait to support you on this journey! I know first-hand how tough it is to speak authentically in public and online. Most people don't have the right tools to deal with their fears, their stress, or with their cracking, faltering, or shaky voice. I get you, and you are at the right place to overcome all of that.
Here is how the course will take place:
Each session will have 3 sections: 1) The inner work 2) The outer work 3) Putting it together.
The inner work deals with what's happening at the belief system's level - the stuff that shows up as emotional stress. It gives you the ability to be vulnerable while speaking authentically and truthfully.
The outer work is the technique of speaking in public: how your voice works, and how to use it efficiently. It also deals with stress management, the onstage body language, and the added stress of social media tech etiquette.
Both inner and outer work are indispensable, but in my experience, the inner work drives the performance. Unfortunately, most programs for speakers aren't built to help you with the inner work.
Putting it together is where we practice going live. It will be prepared during the sessions, but the practice itself will take place on the private FB group between the sessions.
Everyone's need in a group is different. Some people need more personalized attention on the inner work, while others need more personalized attention on the outer work. The beauty of the group is that everybody grows from everybody's work.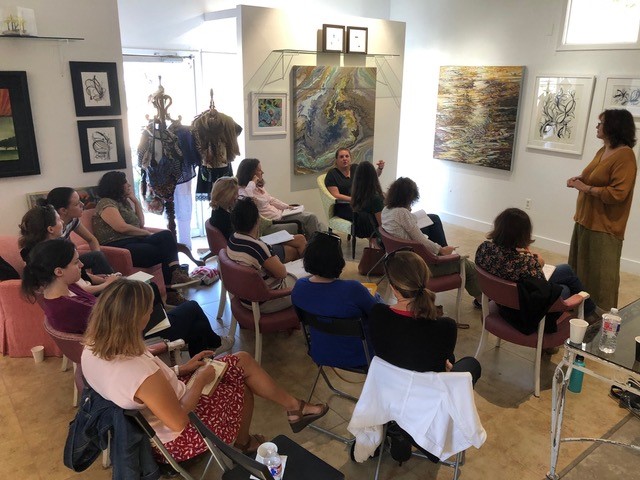 In Session One,
we will work on the
Fear of disappointing my tribe if I speak my truth, and its consequences: the need to fit in and stay safe.
We will introduce the tools for

stress management and start the breath work for optimal speaking.
In Session Two,

we will work on the

Fear of making a fool of myself if I speak in public, and its consequences: Perfectionism and procrastination.
We will also learn about the making of the voice part 1.
In Session Three, we will work on the Fear of hidden downsides if I say what I really want to say leading to hiding and playing small.
We will also learn about the making of the voice part 2.
As a bonus, you'll get a 60 minutes one-on-one coaching call with Head Coach Véronique Eberhart, so you can dig deeper into a particularly sticky story or issue.
Join Speak your truth in this time of turbulence and get access to:
3 x 90 min live group sessions;

My Speak Your Truth System, including worksheets, videos, and transcripts;

Recording of the live sessions;

Access to a private FB group dedicated to this course only, where you'll go live safely;

A Private Portal with total online access to your Coach during office hours for the entire duration of the course
BONUS:
A 60 minutes one-on-one coaching call with Head Coach Véronique Eberhart (value: $250!)
Value: $797
Your Investment: $397
Starting date: May 20, 2:00pm
What Students Say:
As a counselor, I often find myself speaking to groups on mental health topics, and Veronique's workshop helped me to build more confidence and to speak more authentically and clearly to my audience. She pushed me out of my comfort zone with unique exercises and provided valuable feedback on my presenting style. I'm finding myself more open and excited to seek out speaking opportunities after participating in her workshop.
I highly recommend Véronique Eberhart and this coaching session! Even if you are comfortable speaking in public, she will provide additional tools for you to increase your impact in presenting to others. I also enjoyed the small group interaction and receiving different viewpoints about my upcoming presentation. Great experience!
Lori Brugier Walters
Véronique has awesome listening skills and is able to discern beyond what I was saying. I appreciated being able to share my doubts and inadequacy and feeling safe about it.
She opened my eyes to becoming more "whole and real". With this new awareness and with the techniques she shared during our coaching time together, I've noticed how much more confident I am while preparing to speak publicly (teaching/training), how more at ease and de-stressed I am during a public speaking event, and how much more satisfied I am after the event.
The feedback I now get includes "You were at the top of your game" or "You really know your stuff", or "Appreciating your clear and firm direction". I find people respond to this improved leadership that has emerged with the support and coaching provided by Véronique. This makes me smile!
Francine Proulx-Kenzle
In this course, I combined my 20 plus years of stage experience and vocal training as a classical singer with the latest findings in brain research and mind body work that I use in my coaching practice.
This is the proven combination that has the most impact for my clients in the shortest amount of time possible.
This is a very limited time offer. If you are interested, go for it now! This is a value packed course fueled by unmatched life experience, with plenty of live coaching, and personalized attention. It will not stay in this format for very long.
About your instructor

Véronique Eberhart, Success Coach

Véronique Eberhart shows creative heart-centered entrepreneurs tired of hiding and feeling stuck how to find their voice and speak their truth with confidence, so they create their most authentic and abundant life.

Véronique is a classically trained singer, choir conductor, and vocal coach with 20+ years of stage experience in Europe (France, Spain, Italy, Germany), Canada and the USA.

Véronique is a Tapping into Wealth ™ Coach, a Tapping/EFT Practitioner, a certified Integrative Coach, and hold a MA from the University of Strasbourg, France.

She's originally from Southern France, lived in a host of different countries, and settled in Houston, Texas 6 years ago.